Core
Batch Analysis
KARTE has a large-scale data processing platform to enhance "universal utilization of large-scale data" and "flexible connectivity with external data".
With this infrastructure, KARTE's real-time data analysis can be used outside of KARTE, and external large-scale data can be imported into KARTE for further utilization.
Features
Features 01
High-speed Processing of Large Data
High-speed analysis processing enables not only data analysis and visualization, but also more detailed experiences for actions on the site such as web campaigns and all customer contact points outside the site.
Features 02
Flexible External Linkage
Customer data that exists in internal mission-critical systems and various external services/products will be connected to each other based on the customer axis, promoting further utilization of data.
Features 03
Process Automation
KARTE's JobFlow allows scheduling of complex processes.
By using Job Flow, you can automate your manual work.
Dataset
Schema-less × Scalable Databases
Data acquired by KARTE and data from other applications can be aggregated in one place, regardless of the key or size of the data.
Events and segments collected and analyzed by the real-time analysis infrastructure, as well as campaigns and registered account data, are stored as data on KARTE, and can be handled flexibly.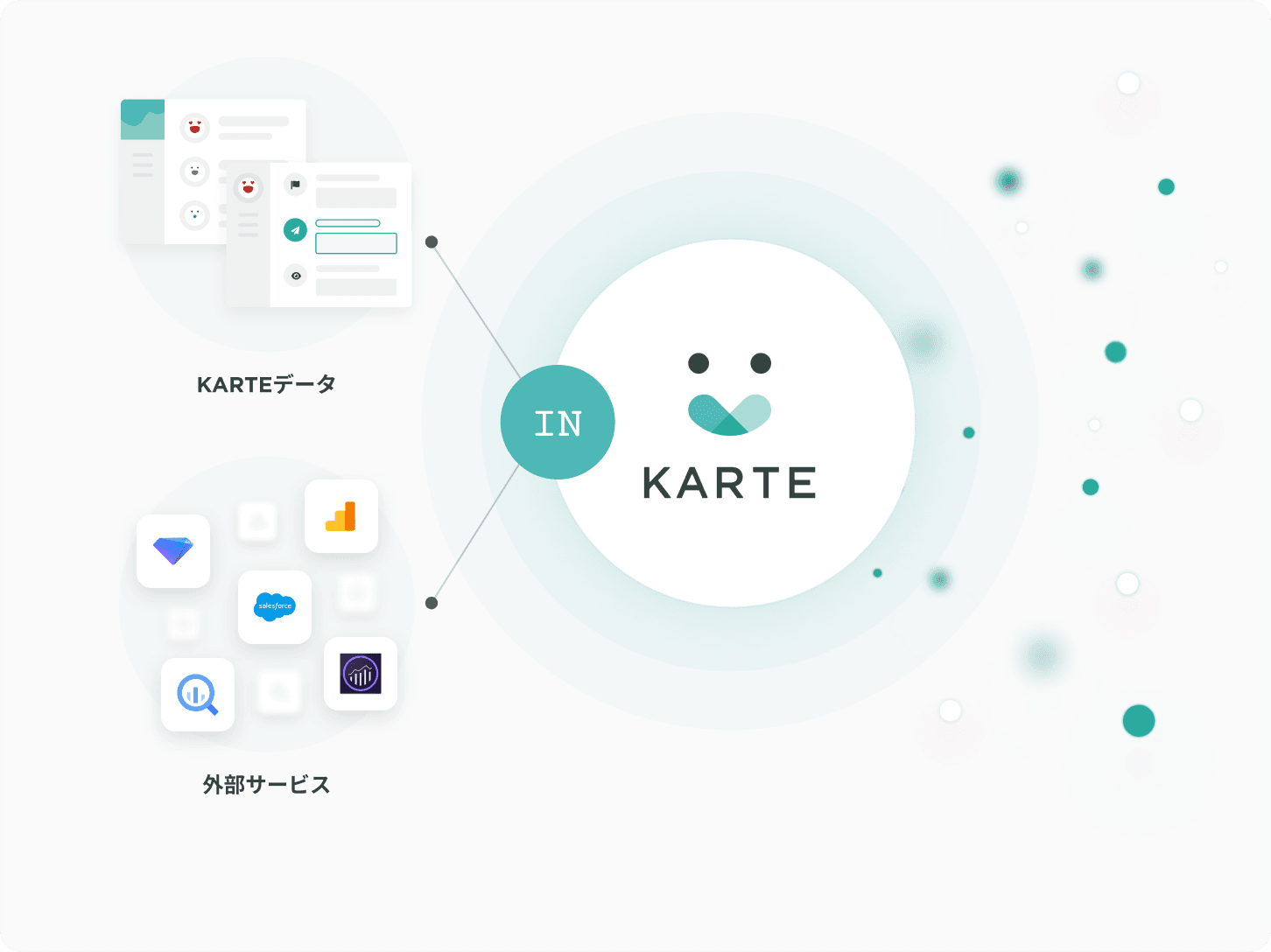 JobFlow
Automate Data Processing
ジョブフローを使うと、他アプリケーションのデータ連携を実施することが可能です。単にデータを連携するだけではなく、
1) 他アプリケーションからKARTEにデータを入れる、
2) KARTE上でデータを加工・統合する、
3) KARTE上でデータを可視化する、または他アプリケーションにデータを出力する、
といった一連の複雑なデータ連携を簡単に実行することができます。
定期的に実行したいジョブはスケジュールやテーブル更新をトリガーに設定して、定期実行を自動化することが可能です。